Brilliant Compassion: Finding Light in the Darkness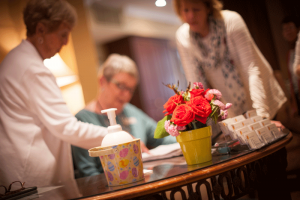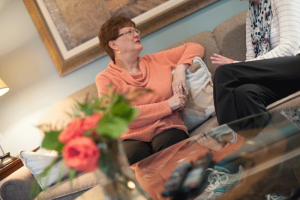 When Bob & Elaine McIntyre and Robbie Cox close their eyes and think of a place that means a great deal to them, Carpenter Hospice is one of the places they see. Why?
When you're alerted to a life-limiting medical diagnosis and contemplate the reality of mortality, you will know that your emotions are jumbled like a ball of raveled wool.
When, in such times, you find solace where warmth embraces you like ivy climbing the side of a home, you count yourself blessed.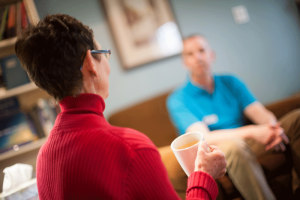 Carpenter Hospice is a home in the heart of Burlington where the emotional needs of people are embraced with help and understanding.
Carpenter offers both residential-based care to people in the last stages of their lives, and community-based programs for people dealing with grief or a life-limiting illness. It lets residents spend their final days together with loved ones in an environment that is peaceful, comfortable and meaningful.
"We are grateful for our partnership with Burlington Foundation as it contributes to our ability to deliver services to our community," comments Karen Candy, Executive Director. "For us to continue keeping the doors open, maintaining the standard of care that we are committed to, we must ensure that we have sufficient funding – every year. That can be a daunting exercise, and the Foundation's support delivers an element of stability that goes a long way toward ensuring we're able to move forward with confidence."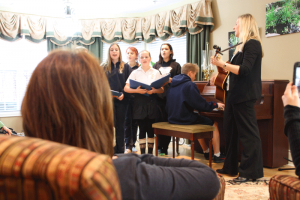 Colleen Mulholland, Burlington Foundation President and CEO, describes Carpenter Hospice as "a great example of how we partner with agencies in Burlington to improve the quality of life throughout the community. The Carpenter Hospice Permanent Endowment Fund was established at the Foundation in 2002. Carpenter trusts the Foundation to manage and steward their endowment fund so the hospice can focus on the good work they do for the people of Burlington."
People such as Bob, Elaine and Robbie.
"After I was diagnosed with prostate cancer in 2003 I thought that was it. And, although that cancer was treated successfully, I really was caught like a deer in the headlights when, in 2010, I learned that I had stage three colon cancer," remarks Bob McIntyre. "Elaine and I didn't know how to proceed but at some point I was given a brochure about Carpenter by someone at Joseph Brant Hospital. This opened a whole new world of possibility and although Elaine would tell you I was probably not the most likely person to pursue a wellness program including yoga and Reiki, we were welcomed into the Carpenter family with such great warmth that we soon became active advocates for what this place delivers to people in real need."
When Robbie tells her story, you hear the genuine gratitude for Carpenter in each of her well-chosen words. "We came here in late October of 2014 when my husband was reaching the end of his journey. Randy had a brain tumour and when the time came that I could no longer care for him at home, we made the joint decision to come to Carpenter after my son and I toured the facility. We found it so warm and welcoming that our confidence was high in bringing Randy to this community."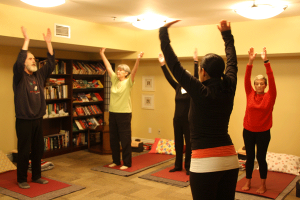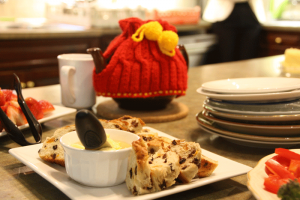 "The staff and volunteers here became my surrogate family. The experience probably meant a great deal to me because they helped me so much in finding self-care," Robbie continues. "Many who care for people reaching the end of life don't really understand what they need until they have it made known to them. That's how Carpenter makes such a valuable contribution to this community."
"Research suggests that for every death in Canada there is an extended impact on at least five additional people," comments Karen. "So if we can help one person experience a good end of life we have, in fact, helped six transition effectively. That too is part of the ripple effect. That too proves that collectively we can get the entire community to a better place."
As Colleen describes it, "The ripple effect of the Foundation and its partners' work means that if we each do a little more, we can accomplish a lot. The Foundation quarterbacks these efforts from a very pragmatic perspective. We know and understand the full scope of need throughout the community and so can steward and steer where support is most effective and targeted for lasting impact."
So, when you close your eyes and imagine a place that means a great deal to you, perhaps it will conjure up a vision of a better Burlington. A community where each of us acknowledge that a rising tide floats all boats and that just like Bob, Elaine and Robbie someday we'll need to adapt to a new normal.
That's what giving brilliantly can also mean.