Branthaven and the Burlington Foundation: Building Community Spirit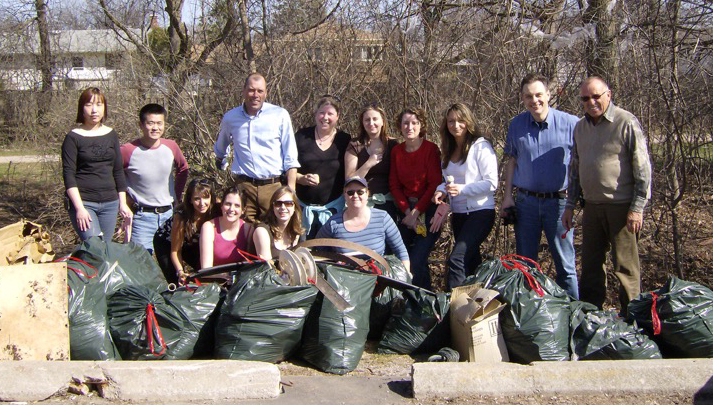 The Stipsits family has been active in Burlington for more than two generations as citizens, business leaders and philanthropists. Their company, Branthaven Homes, is devoted to promoting and building the reputation of Burlington and its many attributes, across the region.
For over 40 years, Branthaven Homes has left an indelible imprint on the built landscape of Burlington, by designing and building quality land developments and landmark residential neighbourhoods. Whenever possible, Branthaven Homes makes a concerted effort to secure land in Burlington, to continue its legacy of building quality housing and innovative work environments. Their focus is on enhancing the character of the City of Burlington as well as the quality of life for its residents. Community place-making and gathering places are always designed so parks, landscaped entry features, tot lots and green spaces are always included.
Giving back to the community is an integral part of Branthaven's corporate mandate. From job creation, urban planning and philanthropic contributions, Branthaven is dedicated to the community.
Branthaven is a strong generator of employment opportunity for Burlingtonians. The economic impact of Branthaven's contribution is significant. For every home Branthaven builds, a number of permanent and contract jobs are created, stimulating the economic wellness of its citizens. Branthaven Homes has always mandated hiring and cultivating local talent and encouraging educational development through apprenticeships and staff training. Branthaven attracts and mentors a broad spectrum of talents from development professionals, design staff, office workers to a full range of skilled artisan trades. Branthaven even works with school boards and skills development by job shadowing and training young people to ensure the long-term viability of the traditional craft of homebuilding.
Branthaven Homes has donated trades, materials and construction management for the building of Burlington's Ireland House Museum and donated all construction materials for the Burlington Humane Society.
The Stipsits family is very involved in the communities in which they build, supporting local charities and leading fundraising campaigns from grass roots sport team sponsorships to education and charities. Branthaven proudly supports the families of our troops serving overseas.
"Branthaven Homes respects the Burlington Foundation and their efforts to reach out and strengthen the community. We share their vision that Burlington is a vital community to live, work and play in," says Steve Stipsits, President of Branthaven. "We enjoy partnering with the Foundation, supporting them in raising funds and profile of the good works they do in the community." 
Colleen Mulholland, the Foundation's President and CEO comments on the Stipsits family's philanthropic leadership, "Steve, his family and Branthaven are setting a great example of a company that is involved in creating a better, more vital Burlington. From supporting our local heritage to providing jobs in our community, Branthaven is doing its part to strengthen Burlington."