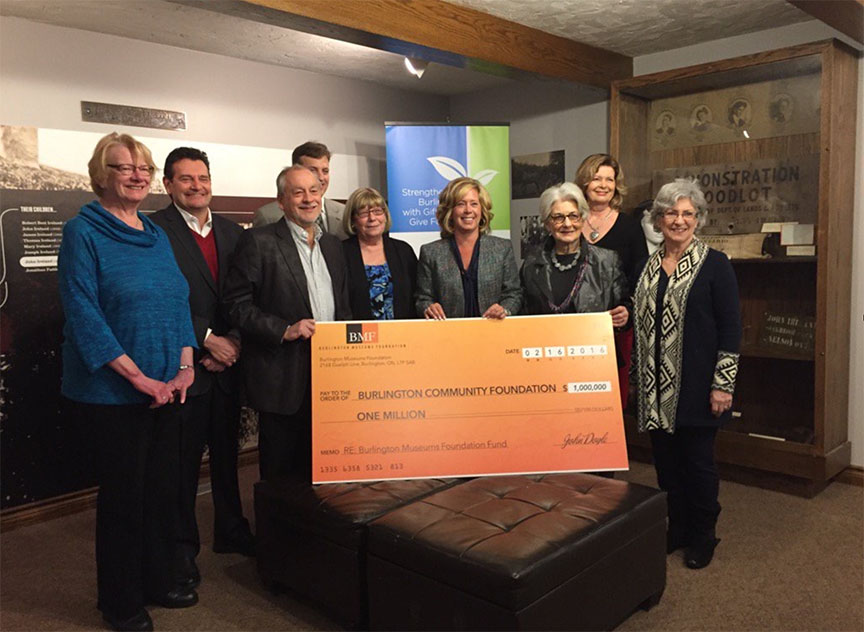 Feb 16, 2016
In an effort to strengthen and support Burlington's history and its museums, the Burlington Museums Foundation (BMF) recently transferred the management of a $1 million bequest to the Burlington Community Foundation (BCF). In the photo above from left are Norma Gibson-MacDonald, director of Burlington Museum Board (BMB), Councillor Rick Craven, Rob Stonehewer, director of BMB and BMF, Phil Reddon, chair of BCF, Barbara Teatero, director of museums, Colleen Mulholland of president and CEO, BCF, Elaine Scrivener, vice-president of BMF, Nancy Cassaday, director of BMB and BMF and Carol D'Amelio, director of BMF, celebrating this gift with a cheque presentation.
"The museum foundation received a generous bequest from Helen Ireland Caldwell in 2010 to help preserve Burlington's heritage," says John Doyle, Chair of the Burlington Museums Foundation. "Our board decided to transfer the fund management to BCF so our team can focus on the work necessary to preserve and support our museums. BCF's leadership and commitment to our community inspired us to partner with them." 
Helen Ireland Caldwell was first cousin to Marie Ireland, the last Ireland family member to live in historic Ireland House before it was purchased by the city and turned into a museum in 1987. Mrs. Caldwell was a volunteer at Joseph Brant Hospital, Joseph Brant Museum, the Ireland House at Oakridge Farm, and a long-time member of the Burlington Historical Society.
"We feel privileged to manage this legacy fund and look forward to supporting the heritage of our city," says Colleen Mulholland, President and CEO, Burlington Community Foundation. "The bequest from Mrs. Caldwell is an inspiring example of how planned giving can make a long-standing difference in our community." 
Learn more about the Burlington Museums Foundation here.
Learn more about the Burlington Museums here.