April 12, 2016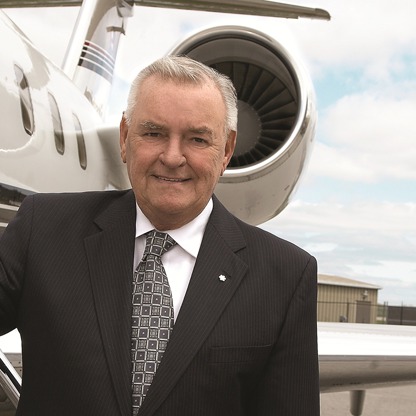 Internationally renowned businessman Ron Joyce has excelled in a number of leadership roles throughout his long and varied career. The one role that this dynamic Canadian entrepreneur is perhaps proudest of is that his business success, as the co-founder of Tim Hortons and other business ventures, has provided him with the opportunity to give generously of his time, talent and financial resources to support those most vulnerable in our communities.  
We are extremely pleased to announce that the Burlington Community Foundation (BCF) has named Ron Joyce as their 2016 Philanthropist of the Year. Born and raised in Tatamagouche, Nova Scotia, Ron has enjoyed long-time residence in Burlington, Ontario.
"Generous. Committed. Extraordinary. All of these words describe Ron Joyce and the monumental philanthropic contributions he's made both to Burlington and our broader national community. We are absolutely delighted to honour Ron," says Colleen Mulholland, CEO, Burlington Community Foundation.
"This philanthropic honour awarded right here in his adopted hometown of Burlington, recognizes Ron's lifetime of giving at home and nationally. Over the years, Ron established two national foundations, The Tim Horton Children's Foundation and The Joyce Foundation. He was appointed to the Order of Canada and has honorary degrees from several universities."
The Burlington-based Joyce Foundation is carrying out one of Ron Joyce's dreams of helping to create better opportunities for children and youth from disadvantaged backgrounds. Through grants and bursaries to colleges, universities, hospitals and community organizations, The Joyce Foundation has been affecting lives across the country for more than two decades. Most recently, The Joyce Foundation contributed significant gifts to support the expansion of our city's Joseph Brant Hospital, as well as in support of Hamilton Health Sciences in Hamilton.
As a local philanthropic leader, Ron's focus on sustainable giving will be prominently noted in the history and future of Burlington. His consistent and unwavering support of children and youth will continue to have an incredibly positive impact on our education and health sectors.  
 "I am deeply honoured to receive this award from the Burlington Community Foundation," says Ron Joyce. "I am delighted to contribute to the community here in Burlington and communities across our wonderful country. For more than 15 years, BCF and its many donors and supporters have worked tirelessly to strengthen our great city. I encourage my fellow Burlingtonians to support our community's continued growth and the incredible organizations that work each and every day to help make life better for others."
Burlington Community Foundation's 2016 Philanthropist of the Year award is presented by Great-West Life, London Life and Canada Life. Each year, a local philanthropist is publicly honoured and thanked for their positive impact on Burlington and the broader community. Ron Joyce will be honoured at BCF's Share to Care Gala on October 22nd, 2016, at The Burlington Performing Arts Centre. Click here to learn more and join us at the Gala.