Brilliant Nurturing: DJ and the Plum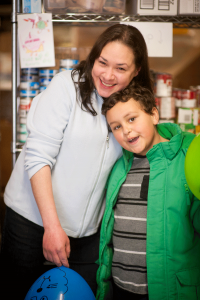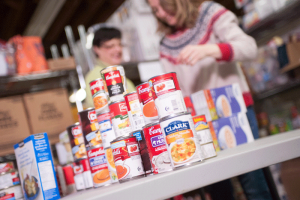 DJ is wearing a brilliant kelly green ski jacket. He's a strapping boy of seven whose eyes sparkle with the clarity and wonder of someone just beginning to travel the road of life. His mom, Vivian observes him with affection born of knowing that her son's story could be quite different.
Do you remember the last time you bit into a fresh plum and felt your senses explode with pure delight? That's how Vivian describes DJ's first, and now several, encounters with fresh fruit. Imagine that – a simple piece of fruit creating a real difference to a family.
This little family has been lifted by the ripple effect of the Burlington Foundation's support for the community. By partnering together, the Foundation and Food4Kids ensured DJ and 298 other kids like him don't go hungry.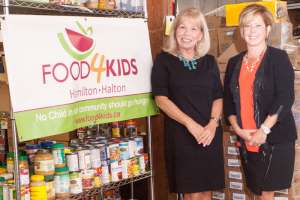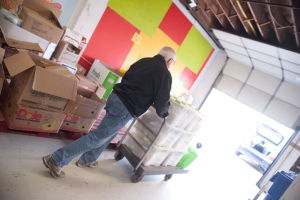 Gayle Kabbash is the Community Relations Manager with Food4Kids. While observing DJ and his mom you can see Gayle's emotions rising. She quite easily describes the organization's mission to provide packages of healthy food for elementary school students from at-risk or low-income homes with little or no food during weekend periods or throughout the summer months. What comes harder is communicating the gratitude she feels for the support the Food4Kids team receives from the community. "People are endlessly surprised that we have this need in Burlington. Quite simply, we do and we are very conscious of meeting the needs of children and families most vulnerable in our community."
"We want to be able to say yes – always," she says. "We don't ever want to turn away anyone who has a clear need. Thanks to grants such as the ones we've received from Burlington Foundation, we're able to confidently say – yes we can help."
Jennifer Steventon, whose son just hooked up with DJ to hang out in the warehouse, is a Food4Kids' program coordinator. Her moving commentary included, "The unconditional support of organizations such as Burlington Foundation and the people who support us, is humbling."
Jennifer is prone to goosebumps! As Vivian begins to tell more of her story, Jennifer's arms take on the appearance of a script written in braille.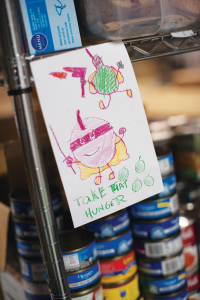 Vivian wants people who are also struggling like her to rid themselves of the shame and stigma that often accompany the realization that sometimes we all need a leg up. You might not recognize it if you saw her on the street, but Vivian is a brave and loving mom.
"This place is amazing. Before Food4Kids DJ would ask me for healthy food and I'd have to tell him, 'baby, we just can't afford that right now.' And, they offer more than food. I can get a good hug here too. Jennifer and I sometimes share a few tears. We both believe it's so important that we make our kids our first priority," says Vivian.
"The Foundation has been quite generous in their support of Food4Kids' weekend and summer program over the past several years," comments Gayle. "We couldn't have done it without the support Burlington Foundation provided."
"The Foundations' work is largely behind the scenes," observes Colleen Mulholland, Burlington Foundation President and CEO. "With the support of our community, we are very proud to partner with agencies such as Food4Kids who provide the critical support to those most in need. What we are able to do very effectively is help the community as a whole rise up. We define a unity of purpose that revolves around sustainable giving and leadership.
"Certainly, supporting the health of our children through initiatives such as Food4Kids is a clear opportunity to show how giving brilliantly through the Foundation improves the quality of life in our community."
Vivian concluded our time together with this, "The first day I received a basket, I cried. There was lettuce, cereal, peaches, cheese. There was even some meat and milk too! DJ has even come to love porridge!
"I want more families in Burlington to go get the help their kids may need and don't let your pride get in the way of making sure your children grow strong and healthy. I won't always have to use this program but right now it makes an enormous change in my life and DJ's too. Thank you."
Through Burlington Foundation's unique endowment funds, you, your family, your company or community group can make a difference in our community for years to come, leaving a lasting legacy of making a difference.
And changing lives – like DJ's.