A Driving Force in Philanthropy for 40+ Years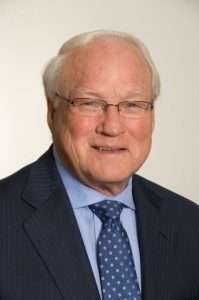 If you've lived, worked or bought a car in Burlington, chances are the name Leggat is familiar. Founded in 1922, the Leggat Auto Group is now a multi dealership chain with 400 employees, built by three consecutive generations. Doug Leggat, son of founder Roy, has been giving back to the city of Burlington for more than 40 years and, in 2011, was named Philanthropist of the Year by the Foundation.
Doug was a driving force behind the development of our Foundation–serving as the first chair. "I felt that a community foundation was going to be fantastic for Burlington; something the community needed. It lasts forever. If I give them a donation, it lives forever." Doug says.
In 2004, Doug created the Leggat Family Fund and shares what giving means to him, "I think it's the personal satisfaction that you feel you have done something to help people out…and…the satisfaction in yourself that you have done something worthwhile."
Doug has been a successful local automobile dealer since taking over the business from his father. He attributes his company's success to the Burlington community in which his family has built their business. Over the course of his 50+ year career, he's seen a phenomenal amount of positive change in the city, only adding to its appeal.
"What a great city to do business in," Doug says, "It's grown from around 90,000 to 175,000 people so it's been nice to be here in that growth period. I've been a part of this community for over 45 years. I love Burlington. It is a great spot to live, a great spot to do business. It's a great community."
The first of what would be many philanthropic ventures came in 1972, when Doug was asked to chair the fundraising efforts of Joseph Brant Hospital's Healthy Tomorrow program. "We were aiming to raise $5 million, which was a huge goal back then," says Leggat. "We all made some calls and Burlington, being such a generous community, stepped up and helped us achieve that goal."
But try to give Doug credit for the outstanding fundraising accomplishment and he'll be the first to point out who is really to thank. "I had a great committee," he says. "You can't ever do anything by yourself. It's too big and it's something you have to work towards."
Children and youth is another area that Doug is a passionate about. Recently, the Leggat Family Fund granted to Nelson Youth Centres, an accredited children's mental health centre that provides group based treatment programs for Halton's children and youth and their families. Doug became involved with Nelson Youth Centres several years ago because he saw the need in Burlington for a place that supports children experiencing behavioural problems.
"It comes back to youth and trying to help," shares Doug. "It is very fulfilling to think that you can help some people that need help. Nelson Youth Centres are …worthwhile…for the children of the area."
"I think it is important for people to give to help the community and to help people at large whether it be financially or whether it be in time or effort. There are so many things people can do. They don't necessarily have to have a lot of money to do it"
Doug explains that while money is certainly an important part of philanthropy, it goes far beyond a financial contribution. It's not just money that helps these organizations operate; he explains modestly–it's also about time and effort. "Volunteers play a big part in our whole society of Burlington. I'm someone that happened to get lucky to have my name on something but really, there are people out there that have done a lot more than I have."
The Burlington Foundation named Leggat as their 2011 Philanthropist of the Year. The significant award is given to the nominee who best exemplifies the qualities outlined in the Foundation's criteria, including community impact, financial gifts, leadership and volunteerism.
"When I was asked to be Philanthropist of the Year, I was flabbergasted that they would pick me," said Doug. "There are so many other people out there that have done so much more but I'm absolutely honoured. For myself, for my family… it's an honour to all of us."
"Doug is one of many generous philanthropists who are personally driven to make a lasting impact on the vitality of our community." says Colleen Mulholland, President and CEO, Burlington Foundation. "By giving time or whatever they can, people from all walks of life are making this city a great place to live, work and play."