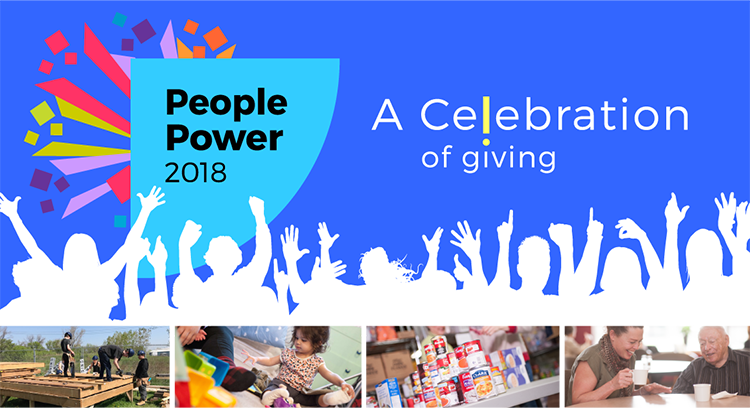 Thursday, October 18, 2018
7:00 – 9:00 pm
RBG David Braley & Nancy Gordon Rock Garden Visitor Centre
1185 York Blvd, Hamilton
This year, we're hosting a new and different kind of celebration from our Share to Care gala, People Power 2018, where business, charities and community will come together to reveal the incredible power of giving!
Registration:
We are presently finalizing emailed invitation-only registrations. Should additional capacity become available, more tickets for community will become open and additional attendees may register. Please check back here for notification of availability.
Questions? Please contact Lori Heron at lheron@burlingtonfoundation.org or 905.639.0744 x223
Highlights of the Evening
Community Mix and Mingle warm up
Kick-start the evening and catch up with business and community friends over a drink and light appetizers.

Special guest speaker, decorated CFL receiver, Andy Fantuz
Andy Fantuz's phenomenal 12 year CFL career with the Hamilton Tiger-Cats and Saskatchewan Roughriders has earned both community love and a list of celebrated honours. One of the best Canadian receivers ever to play in the CFL, Andy played in 5 Grey Cup games, winning one and earning the Dick Suderman Trophy as the game's most valuable Canadian two times. Ranked 4thall-time among Canadians in receptions and 18thoverall in CFL history, Andy kick-started his CFL career through winning the Hec Crighton Trophy as most outstanding Canadian football player in university sports.
Recently announcing his retirement from the CFL in July 2018, Andy has made an awesome impact off the field too as a great ambassador and role model with an active commitment to supporting community – while holding a special place in his heart for mentoring and supporting youth in sports and recreation.  Wholeheartedly believing that football is all about sharing, and that the strength of the team relies on each individual member, Andy will share personal, inspiring stories from both on and off the field.

Unveiling NEW charitable grants
Share in the excitement of socially-minded businesses right here in Burlington coming together to unveil to the community new grant awards to local charities. Join us we celebrate the collective giving of our Brilliant Business Circle members and reward the incredible work these deserving charities do in addressing vital community needs.

Honouring our 2018 Distinguished Philanthropist
Presented by Great-West Life, London Life, and Canada Life, please join us in honouring an incredible everyday community hero, Dorothy Borovich. Click here to learn more about our honouree.
Thank you to our following partners for their support of People Power 2018 and year-round giving of their time, talent and treasure:
Click logos to visit our partners' websites
2018 Distinguished Philanthropist Partner
Celebrating with our presenting partner, Great-West Life, London Life, Canada Life, a giver who is truly an everyday hero for our community. Learn more about our Distinguished Philanthropist honour
Brilliant Business Circle