During times of conflict, the Red Cross is a beacon of safety.
Although the situation is evolving, what is clear is there has been a massive escalation in hostilities.
The humanitarian consequences of this crisis will be vast.
The Canadian Red Cross has been in close communication with the Ukrainian Red Cross Society (URCS) and has contributed to their preparedness efforts, which includes personnel, equipment, and training.
Here's how the Red Cross is responding:
The URCS has 2,000 volunteers and 550 staff working across Ukraine and we know they will need our steadfast support in the coming days, weeks, and months ahead.
The URCS is currently assisting those impacted with livelihoods support, psychological support, as well as operating mobile health teams.
Working alongside the URCS, the international Red Cross Movement is responding to existing and growing humanitarian needs by delivering urgent assistance, including food, fuel for heating, medical supplies, and support for housing.
The Canadian Red Cross is supporting preparedness and response efforts and remains in close contact with Red Cross Movement partners on how we can best support those affected in Ukraine and surrounding countries.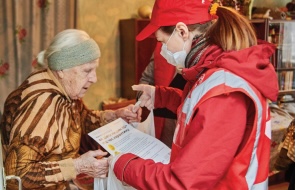 "We already see the immediate consequences for civilians, with the latest intensification triggering new displacement. Residents in Donbas and elsewhere have already endured eight years of conflict. Now I fear increased suffering, with the potential of massive casualty numbers and extensive destruction of civilian objects like water and electricity plants, as well as mass displacement, trauma, family separation, and missing persons."
– PETER MAURER, President, International Committee of the Red Cross
Please give today to help the people of Ukraine during this dark time.